Reunion dinner is distinctly the most anticipated and important part of the Chinese New Year celebration. 
The occasion, also commonly called Tuan Yuan Fan in Mandarin, describes a yearly tradition of family members gathering around a round table and bond over a sumptuous feast. It usually is a loud and hearty affair, from lively conversations, to heated game playing between family members and relatives, and finally to prying children eager to receive their share of angpaos in the morning.
However, this year will be a different and much quieter celebration than before with the visitation and travel restrictions in place. Even so, we should not feel discouraged, instead let's count our blessings and indulge in our reunion dinners in a more intimate setting – with immediate family members staying under one roof or connect back home virtually if you're a distance away. 
If preparing and cooking for CNY feast sounds a little underwhelming for you this year, various set menus for takeaway or delivery are readily available from IPC for a cosy reunion at home. Here are the 5 different types of reunion dinner choices to pick from (maybe even for the entire 15 days of CNY).
Absolute Thai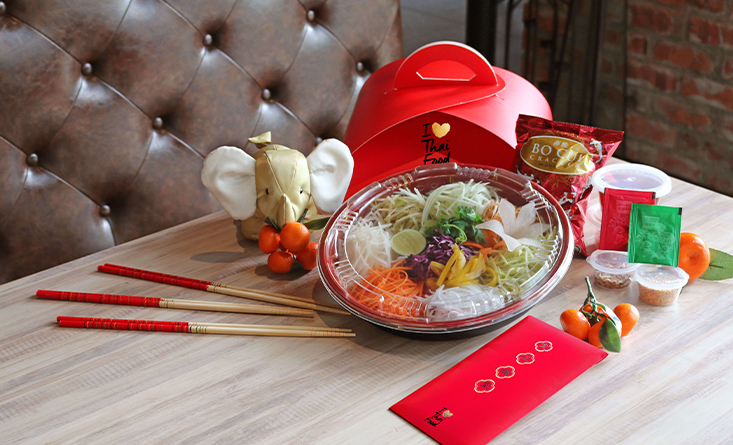 Toss to new heights this CNY with Absolute Thai's Thai Fresh Yee Sang. It comprises of fresh fruits and vegetables, then topped off with their tangy homemade tamarind sauce for a Thai-inspired Yee Sang for your reunion dinner. This Yee Sang is hassle-free and a great appetizer addition for families that are preparing their own home cook reunion dishes.
Takeaway and delivery are available. Order now via absolutethai.oddle.me or GoGet Personal Shopper Service
Price: RM68 for 1 set | RM130 for 2 sets
Location: G.20
Ben's Independent Grocer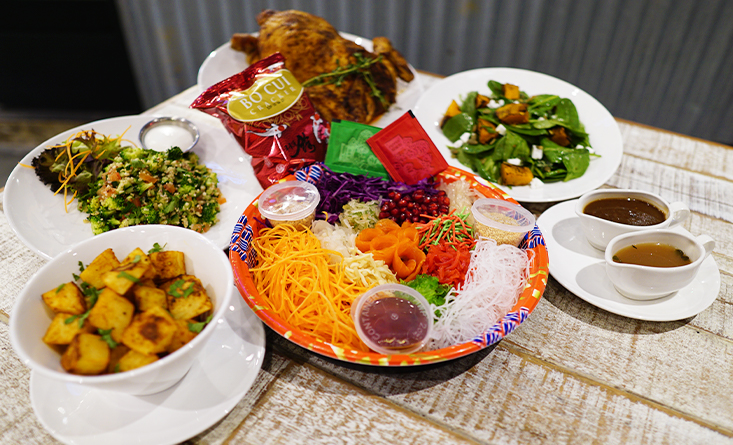 Indulge in Ben's Independent Grocer's The Grocer's Kitchen CNY Everlasting Harmony Feast that feeds up to 4 or 5 pax. Start off with the Prosperity Yee Sang and then feast on wholesome dishes such as, Whole Roast Chicken, Broccoli Quinoa Tabbouleh, Roasted Pumpkin Salad and Roasted Potato. This set menu is suitable for those who prefers a rustic home-style or healthier reunion dinner meal compared to the usual oriental dishes we're familiar with.
Promotion ends on 17 February 2021. Available to take away from IPC Shopping Centre or GoGet Personal Shopper Service
Price: RM88
Location: LG1.19 & 20
Hana Japanese Dining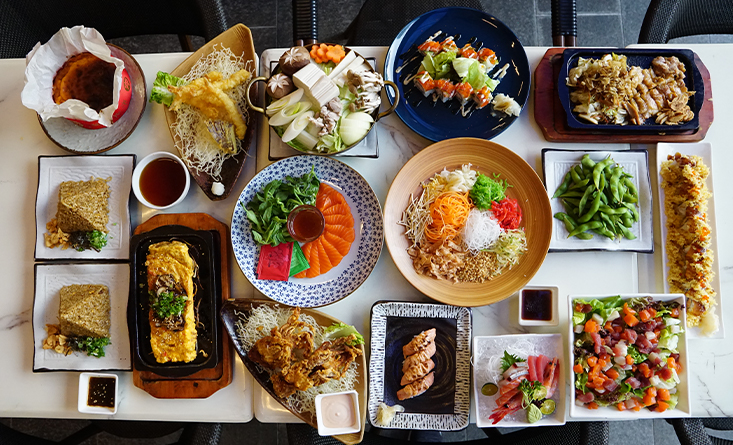 Experience a Japanese-twist reunion dinner this CNY from Hana Japanese Dining with their Hua Package for 4 pax. The set comes in an assortment of seafood and meat starting from the Salmon Yee Sang, to air flown sashimi, deep fried soft shell crab, boneless chicken thigh hot pot, and many more. There are also 2 Yee Sang only options to choose from, sans the other dishes, the Atlantic Seafood Yee Sang or Salmon Yee Sang that comes with generous amount of sliced sashimi selections that are ideal for anyone that craves fresh sashimi for reunion dinner.
Promotion ends on 28 February 2021. Takeaway and delivery are available or thru GoGet Personal Shopper Service. For more information or to order, do WhatsApp Hana Japanese Dining at 017-684 1326.
Price: Hua Package (RM368++ for 4 pax) | Jiu Package (RM618++ for 6 pax) | Wu Package (RM868++ for 8 pax)
Location: G.23a
IKEA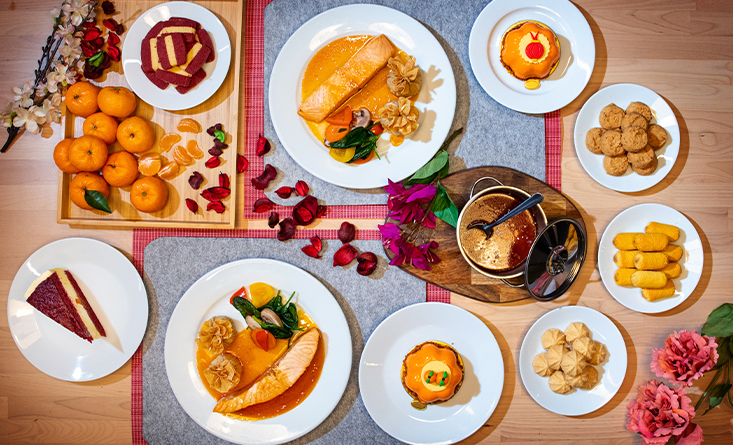 Usher in the new year with IKEA Restaurant's exclusive CNY dishes, consisting of Prosperity Salmon with Money Bag Chicken Wonton and Sesame Sweet & Sour Sauce as well as their Red Velvet Mandarin Orange Cheese Cake. Do also enjoy 10% discount off both food items when ordered together for takeaway or delivery.
Price: RM22.90 for 1 set of Prosperity Salmon with Money Bag Chicken Wanton and Sesame Sweet & Sour Sauce | RM8.80 for 1 slice of Red Velvet Mandarin Orange Cheese Cake
Paradise Dynasty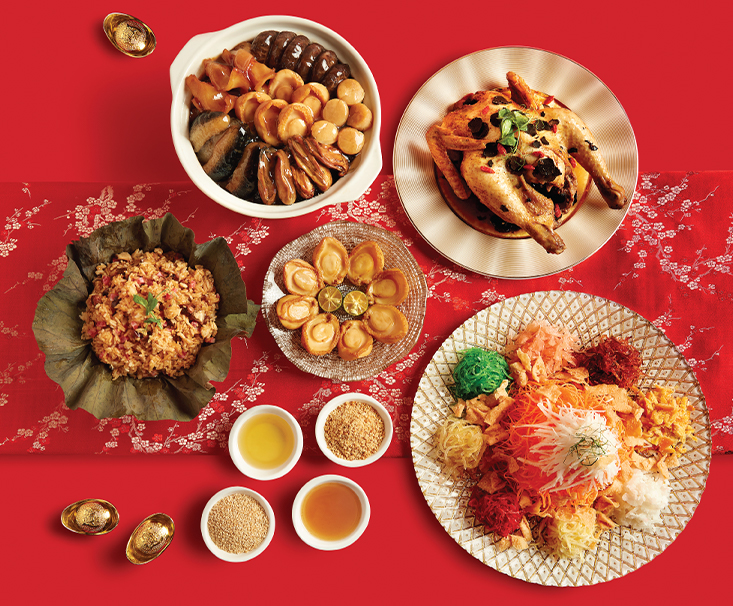 Delight in Paradise Dynasty's Abundance Takeaway Set that perfectly caters a family of 5 or 6 pax. Toss to good fortune with Paradise Auspicious Abalone Yee Sang and enjoy other exquisite dishes such as, Auspicious Black Truffle Kampung Chicken, Paradise Prosperous Fortune Pot, and Fortune Lotus Leaf Glutinous Rice. All are made with fresh premium ingredients that will sure tantalise your taste buds and fill up your bellies
.
Takeaway and delivery are available. Order in advance via https://order.my.myparadisedynasty.com/ or GoGet Personal Shopper Service <>
Price: RM768+ (NP: RM838+)
Comes with RM280 worth of FREE gifts (Lee Kum Kee Goodies Bag + RM200 Dining Voucher + Exclusive Thermal Bag) for each set ordered.
Location: G.21 & G.22
---
That concludes the 5 lip-smacking reunion dinner choices from IPC. As we may not be able to cover them all in detail here, do tune in to IPC Shopping Centre's Facebook page for more exciting CNY deals. Let us also help you with the option to comfortably shop from home for the things (food or non-food) you may need this CNY.
Hire a personal shopper from our official partner, GoGet to help out on your purchases and have it picked up from IPC or delivered to your doorstep.
Read more about the service here.
Lastly, from IPC Shopping Centre, we wish all our Chinese friends and Malaysians a safe and Ox-picious Chinese New Year celebration filled with new hopes, aspiration and joyful moments with your loved ones.