Valentine's Day is just around the corner, and staying at home this year does not mean you can't turn it into a romantic celebration with your significant other. No matter if you're staying together or apart during this time, you can still show your appreciation to one another in a form of gift.
So, if you need some inspiration, we've got you covered with our Valentine's Day Emergency Kit suggestions suitable for him & her.
Dome Café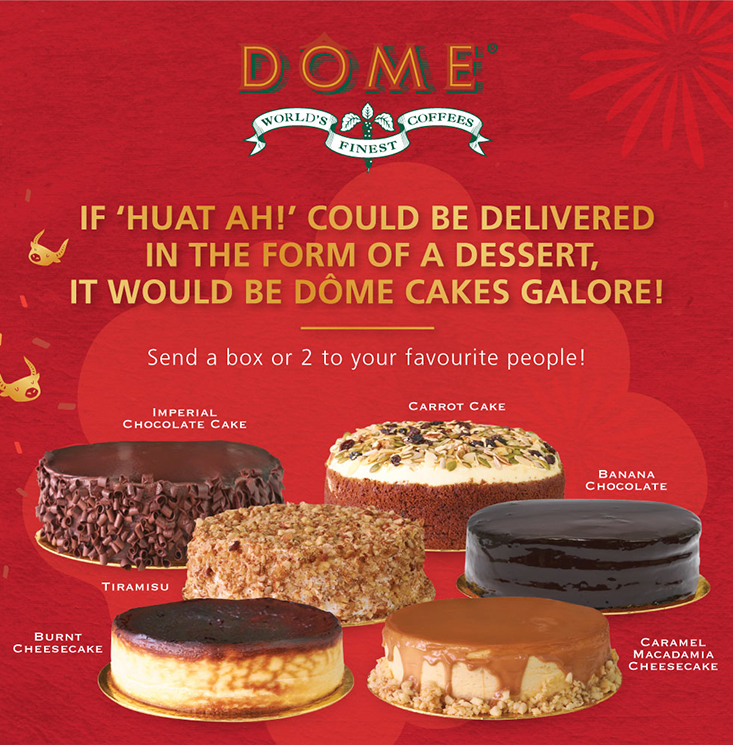 Well, they say that food is the way into the heart, so cake should also do the trick! Dome Café has so many cake flavours to choose from this festive season including, Imperial Chocolate Cake, Carrot Cake, Tiramisu, Banana Chocolate, Caramel Macadamia Cheesecake, and everyone's favourite, Burnt Cheescake!
Send a box (or two) to surprise your favourite person and we guarantee that it will be the sweetest gift ever that he/she will receive this Valentine's Day. Delivery is available via GoGet personal shopper service.
Location: G.16
Dr Hauschka
Gifting the right and good skincare products are seen as truly knowing and having a close relationship with your significant other, as you know what they need to make them feel and look better. So, look no further and scroll through rose-based products from Dr Hauschka as the perfect skincare gift this V-day!
Rose Day Cream Light transfers to your skin the invigorating powers of the rose to nourish hydrate and protect dry, sensitive skin for a calm, even and balanced complexion.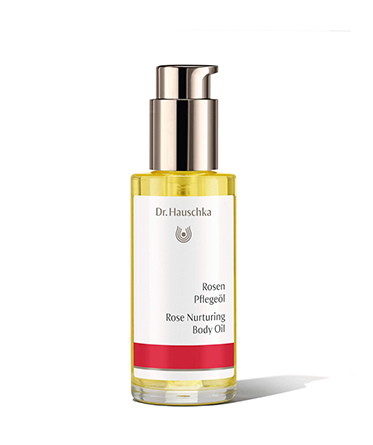 Rose Day Cream Light 30ml (RRP: RM179 w/o GST)
All the protective, fortifying qualities of Rose Day Cream in a lightweight formulation, perfect for sensitive skin or use in warmer weather.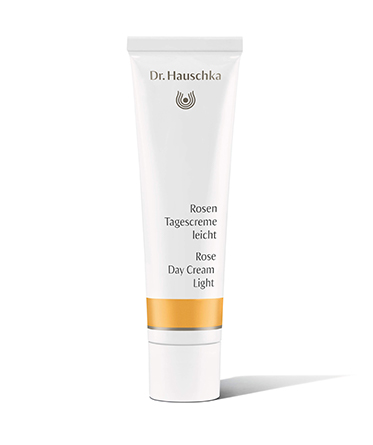 Rose Nurturing Body Oil 75ml (RRP: RM150 w/o GST )
Complete your rose care ritual by massaging the Rose Nurturing Body Oil on moist skin after showering for silky, supple skin.
Dr Hauschka is offering a 10% discount off a single receipt and FREE shipping during this promotion period from 19 February – 30 June 2021. Customers can place order directly with Dr Hauschka via WhatsApp at 012-324 4962 for delivery or in-store purchase.
Location: G.18
Famous Amos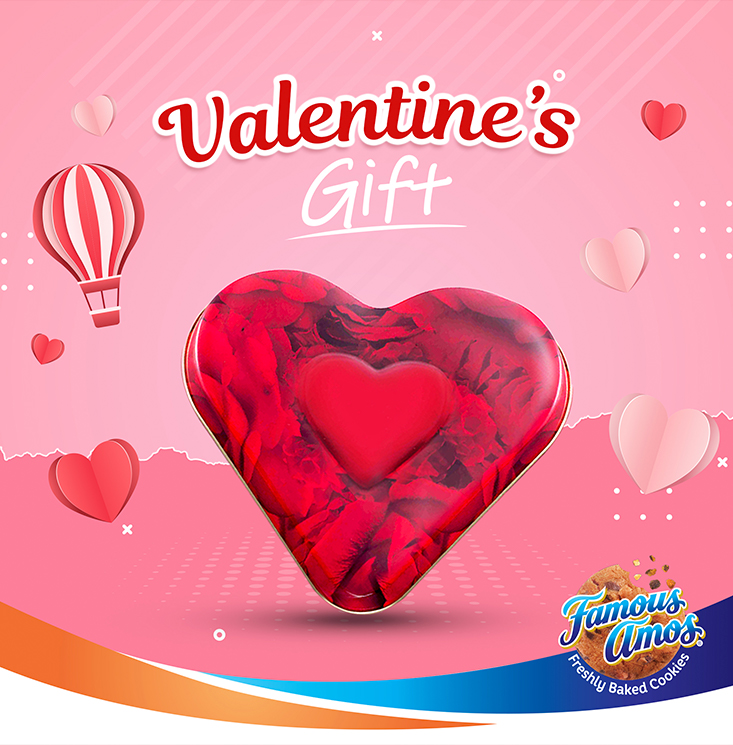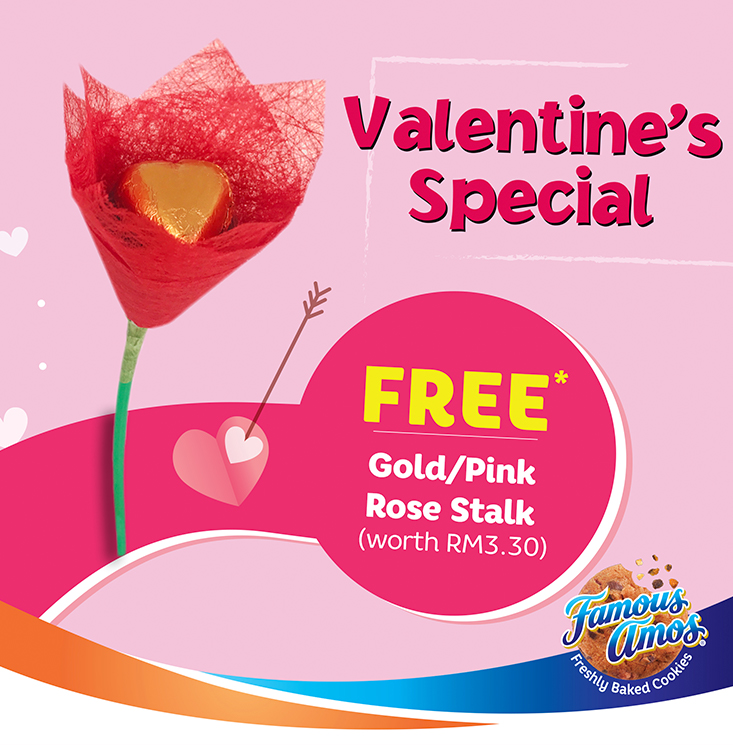 You definitely can't go wrong with chocolates for Valentine's Day. It's also extra sweet and meaningful when you get to enjoy it together with the ones you love!
From 8 – 14 February 2021, Famous Amos will be giving out FREE one (1) rose stalk with every purchase of their cookies gifts or boutique gifts worth RM40 & above. Delivery is available via GoGet personal shopper service.
Location: LG1.16
Focus Point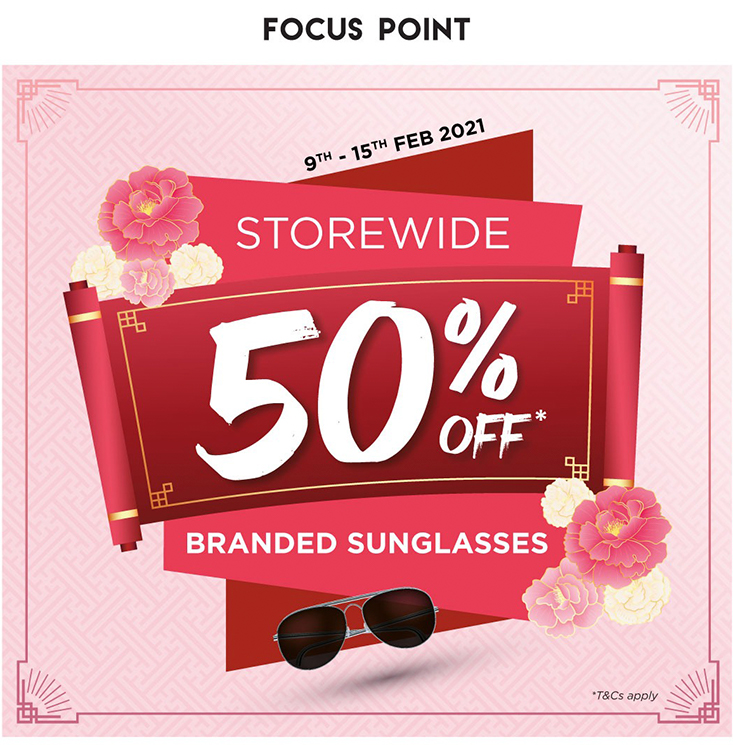 Stylish pair of shades will never go out of style! It's also perfect for this sunny Chinese New Year weather to keep your loved one's eyes protected from UV-ray.
Surprise your love with a new pair of branded sunglasses just in time for spring, and enjoy 50% off your purchase until 15th February 2021. Don't miss out on this great deal!
Location
Harvey Norman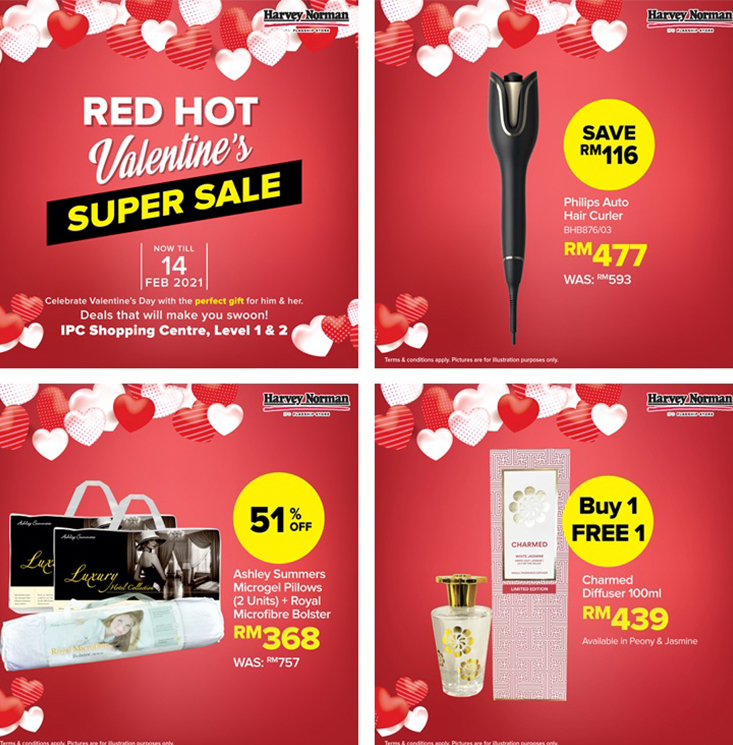 Harvey Norman is offering 'Red Hot' deals that will make you and your partner swoon! From personal care to home products, they've had it all carefully picked out just for you at wallet-friendly prices.
Hurry and get your hands on any of the deals as promotion ends on 14 February 2021. Products are available for delivery via GoGet personal shopper service or in-store purchase.
Location: L1.10 & L2.07
Jurlique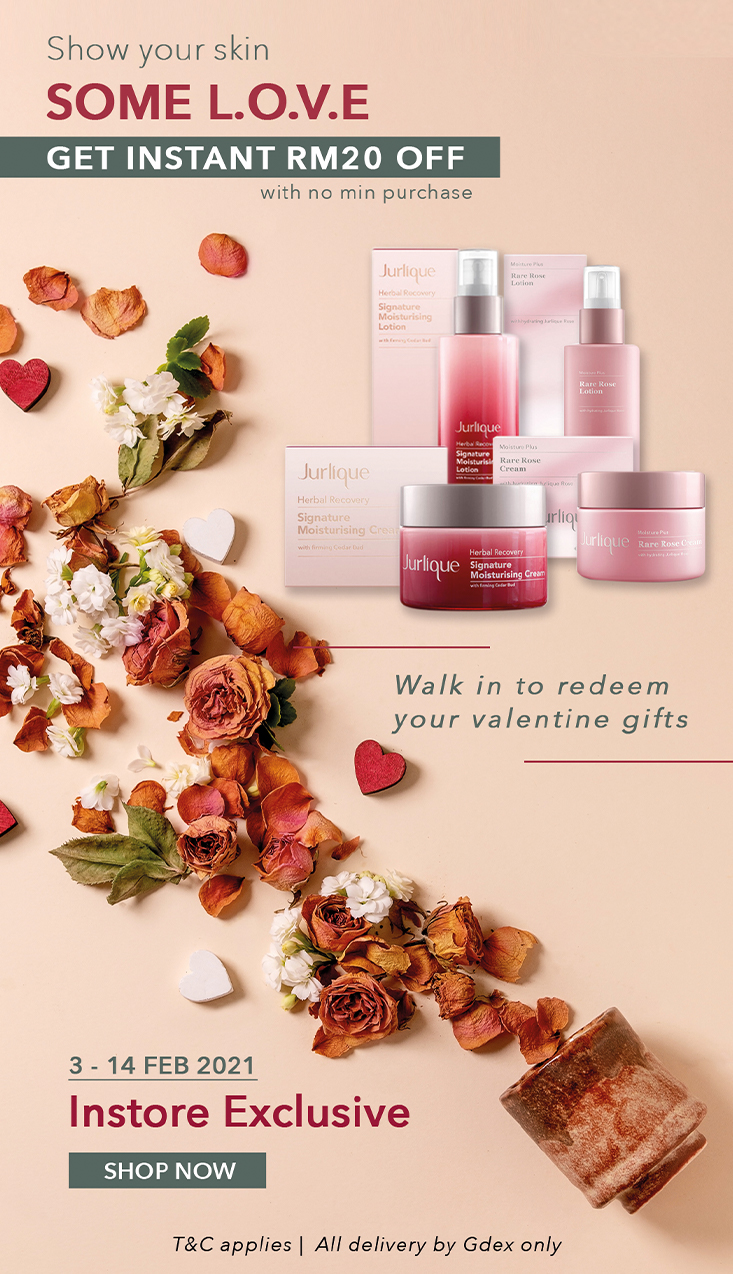 Spread the love and treat your other half right this Valentine's Day with Jurlique skin care products that are made with pure botanical extracts, suitable for all types of skins including sensitive ones.
Get Instant RM20 off with no minimal purchase required from now until 14 February 2021. Products are available for delivery via GoGet personal shopper service or in-store purchase.
Location: G.06 & G.07
Lelas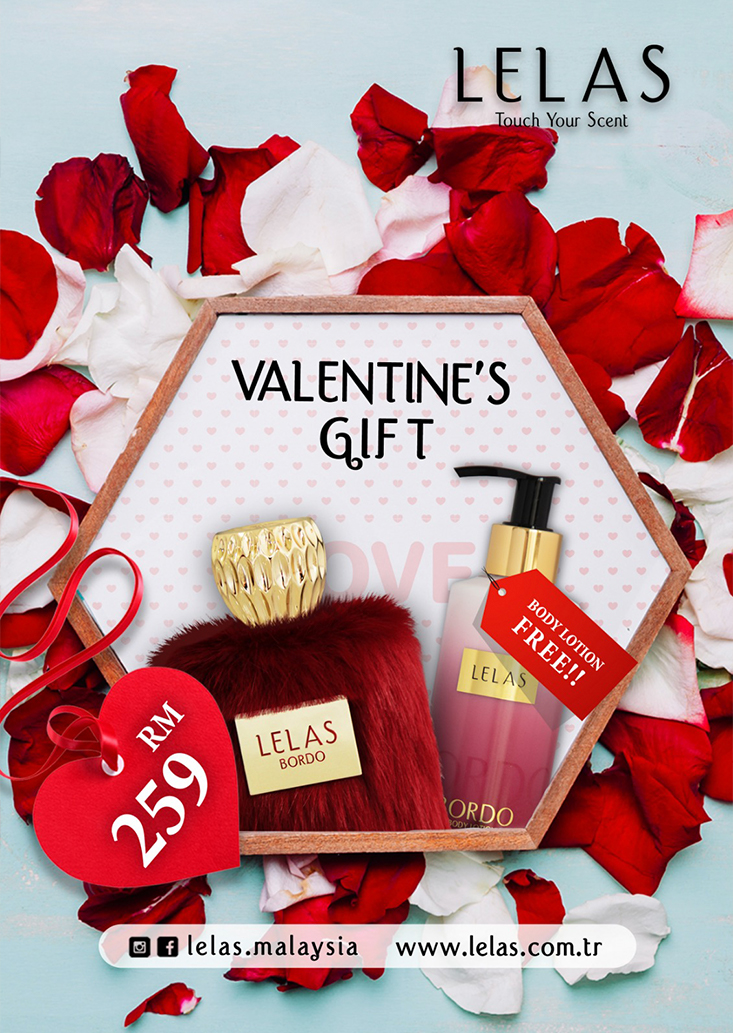 Scent is a powerful trigger of emotions. So, spritz on your favourite perfume or cologne for that Valentine's Day date, or sent it to your partner if you're staying apart to stir up fond memories. Lelas offers a variety of perfumes ranging from bright florals, musky scents, spicy fragrances, and more, to suit all types of personalities.
Spend RM295 and above in a single purchase and get one (1) FREE bottle of body lotion. Customers can place order directly with Lelas via their Instagram account at https://www.instagram.com/lelas.malaysia/ for delivery.
Rimba Flowers
When words are not enough, declare your love with the beautiful gift of fresh rose bouquet! We know that these delightful and fragrant floral arrangements will sure put a smile on your Valentine's face.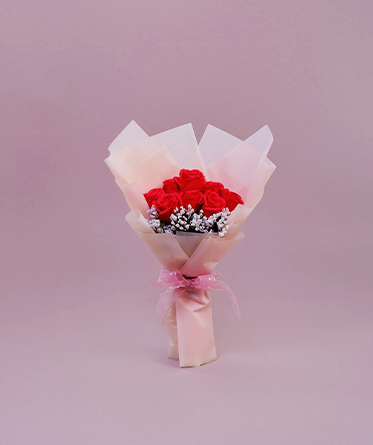 Fresh Red Roses Hand Bouquet (RRP: RM150)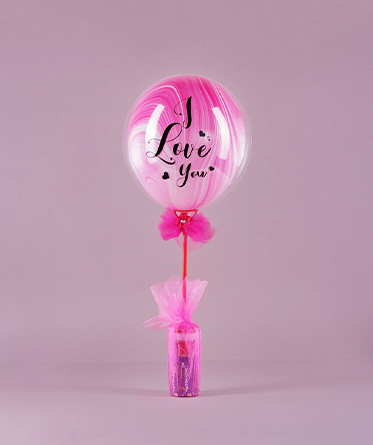 18 inch Personalized Message Bubble Balloon with 12 inch Super-A-gate Balloon and Mini Cadbury Chocolates (RRP: RM120)
Rimba Flower provides in store pickup if you need a last minute rescue. Alternatively, delivery is available via GoGet personal shopper service.
Location: LG1.02
---
Valentine's Day is a beautiful day to show your appreciation and sincerity to the one you love, but remember, you don't have to necessarily be in a relationship with another to celebrate this day.
You are already in a long term relationship with yourself, so let's not forget to treat and pamper yourself as well!