Stretch your money with the very best shopping & leisure deals!
Times, as you know, are tough right now. There's no denying that rising costs have most Malaysians eyeing their expenses, and it's likely that the pricing roller coaster will continue.
To help you navigate savings during this trying times, shop with us this 11.11 to get the maximum value! Spend & Redeem E-Vouchers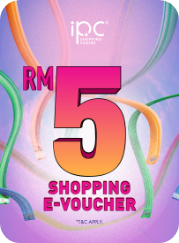 Spend RM500 in 3 receipts and redeem RM100 worth of e-vouchers which consists of TWO (2) RM5 valued e-vouchers from each the following outlets:
2 x BIG e-vouchers
2 x Poke Village e-vouchers
2 x HWC Coffee e-vouchers
2 x Noodle Shack e-vouchers
2 x Skechers e-vouchers
2 x Niki Cains Home e-vouchers
2 x Kluang Station e-vouchers
2 x Popular e-vouchers
2 x The Pet Safari e-vouchers
2 x Poney e-vouchers
How To Join
1

Spend a minimum of RM500 at any outlet in IPC Shopping Centre.

2

Go to i-counter, Level G with your receipt to redeem your RM100 worth of e-vouchers.

3

Enjoy your e-vouchers on the IPC app!