Sustainability is one of the significant topic globally in recent years with the insurgence of clean technologies, green campaigns as well as national and international forums across the globe with the mindset to meet the needs of the present population without compromising the ability of future populations to meet its needs (Brundtland, 1987). To most people, the word "sustainability" is largely linked to the act of managing and protecting the environment, however, it also extends to social and economic sustainability (World Summit Outcome, 2005). With that, this practice has become more important in all companies across various industries.
Here at IPC Shopping Centre, sustainability is one of our core values. Our operational developments and business goals are set with it as we move towards sustainable retailing and to foster company longevity for the many years to come. You can witness it within our premises, our co-workers and our management.
We are dedicated to our company's vision in aligning with Ikano's Sustainability Agenda towards 2030 where we become people and planet positive – essentially to inspire and enable the many people to live a better everyday life within the boundaries of the planet by 2030 – as well as the Sustainable Development Goals of 2030 Agenda by the United Nations that aims for 45% emissions cuts by 2030 as we head towards a carbon neutral world by 2050 (United Nations, n.d.).
Through our efforts, we managed to be the first shopping centre under the Ikano Centres portfolio to reach such achievements:
Malaysian Green Building Index Non-Residential Existing Buildings (GBI NREB) Certification.

First Leadership in Energy and Environmental Design (LEED) certified operating retail premise in Malaysia, under the Operations and Maintenance category.

2021 EdgeProp Malaysia's Best Manage & Sustainable Property Awards in 10 Years & Above Retail Category – Silver Award.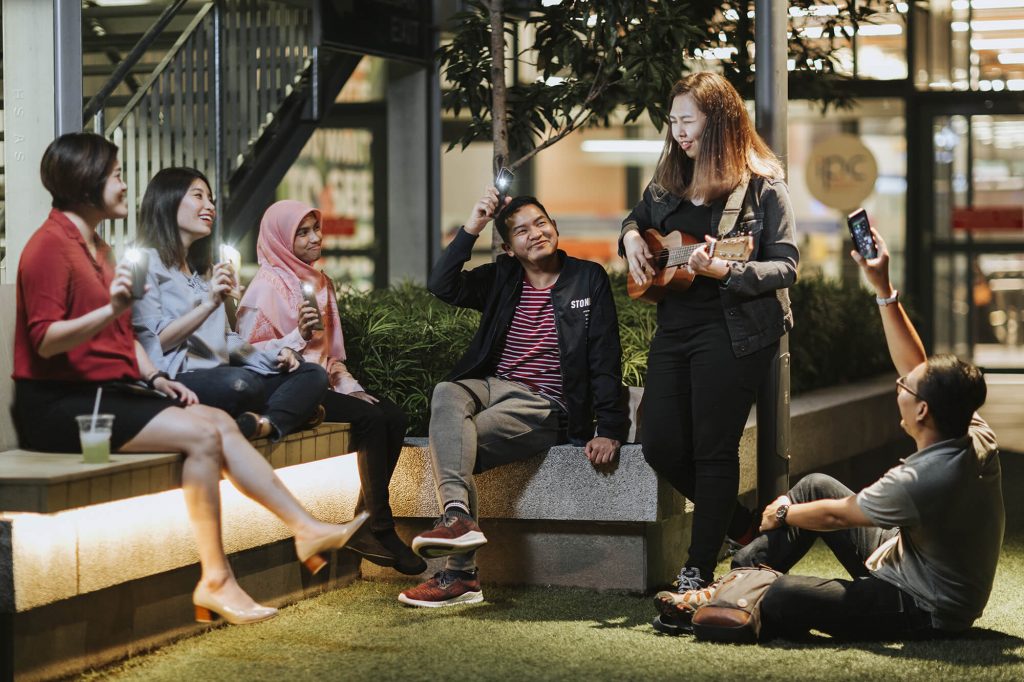 So, how did our journey begin? In 2009, IPC became the greenest and the first shopping centre to launch its humble buy-back system through the introduction of our proper recycling station, Recycling & Buy-Back Centre (RBBC), for our patrons and community. It is a convenient recyclable item drop-off point for anyone who wishes to do their part for the environment, no matter how little or large. The buy-back service is available to those with bulk recyclable items in exchange for cash, and we have also recently expanded the range of acceptable recyclables, so do check out our RBBC for greater details.
Aside from the RBBC, our entire building, including the back of the house, is constantly carrying out sustainability efforts and activities that public may be unaware of:
Energy Efficiency

Use of dark, non-reflective surfaces which is coated with a layer of high reflective coating with a solar reflectance index (SRI) of 104.

Installation of solar panels on building roof top.
Separated lighting zonings and controls.
Building facades with thermal inducing walls.
Efficient cooling system and thermal comfort.

Water Management

Installation of water-efficient features and fixtures.

Rainwater harvesting plant for landscape irrigation and chillers operation.

Smart Resources Usage & Recycling

Use of recycled materials, sustainably sourced timber – FSC® and low volatile organic compounds for building upgrade.

Participation from tenants in waste recycling throughout our building and operations while reducing transport emission from transporting waste to the landfill.

Digitalisation

Cash-free parking using Touch 'N Go or payment card to reduce paper usage for car park tickets as well as reducing transport carbon emissions to transport cash collected to the bank.

Digitise membership with IPC app.
Digitise office documents to reduce paper printing.
Our co-workers from office are highly involved and actively practice waste recycling in the workspace. We are proud of all our co-workers for embracing sustainability as part of their daily lives in both the office and at home, which allows for us to work collectively towards our set business green goals and be green advocators to their families and friends.
Of course, in the efforts of making ImPaCts, we could not have done it without our partners such as Hi-Tech, Tenaga Bersih, Malaysia Harvest, Majlis Perbandaran Petaling Jaya (MBPJ), Kloth, and Kevin.Murphy, whom support us in all of our efforts especially in waste recycling, cleanliness and ensuring a safe environment for the many. The existence of our handbooks, SOPs, workshops and guide books has enabled us to keep track of the rules and in return, helped us to earn our worldwide recognised certificates, managed cost efficiency and a much more wholesome workforce in collaboration with all of our tenants and partners at the centre.
Below are some of our sustainability statistics:
Increased general waste recycling rate from 31% in FY2019 to 42% in FY2020 to 46% in FY2021.

Reduced electricity usage by 12% in FY2020 and 8% in FY2021.

Reduced water consumption by 7% in FY 2020 and 13% in FY2021.

Reduced landfill waste from 860 tons in FY2019 to 668 tons in FY2020 to 489 tons in FY2021.

Solar panels contributes to 4% of savings in energy consumption throughout FY2019 to FY 2021.

Reduced purchase of printing paper (we only use FSC®-certified paper and suppliers) from 72 cartons in FY2019 to 60 cartons in FY2020 to 30 cartons in FY2021.
Here are our recyclable material figures collected from 2018 to 2020 and its positive impact to the environment:
Cardboard and paper: collected 825,034 kg that is equivalent to saving 13,804 trees.
Plastic: collected 47,224 kg that is equivalent in reducing our carbon footprint by 283,344 kg.
Aluminium: collected 6,857.5 kg that is equivalent to saving 22,894 litres of crude oil.
The work does not stop here as we look forward to future-proof our business in a more sustainable way and let's just say, a more IPC-IKEA way. Both currently and in the future will have tons of plans to ensure the longevity of our sustainability efforts as we run monthly green campaigns, social contests, 'Reduce & Reuse' workshops, annual greenest tenants award, upgrading and digitalisation of Recycling & Buy-Back Centre (RBBC). Many fun and engaging activities are in the pipeline, so do anticipate them and tune in to our website and social media pages for more information and releases.
So, have we inspired you to be a part of the green revolution for mother earth? We hope we did and do join us on this bandwagon as we explore the possibilities, encourage immersive dedication as well as creating a better future of the many people. Let's cheer towards an ImPaCtful future both at work and at home, and as Ingvar Kamprad once said, "A Glorious Future!" indeed.