We recently unveiled our revamped and upgraded Recycling & Buy-Back Centre (RBBC) with new enhancements and features that will elevate consumer's recycling journey to a seamless and digitalized experience. It operates daily from 8am to 10pm.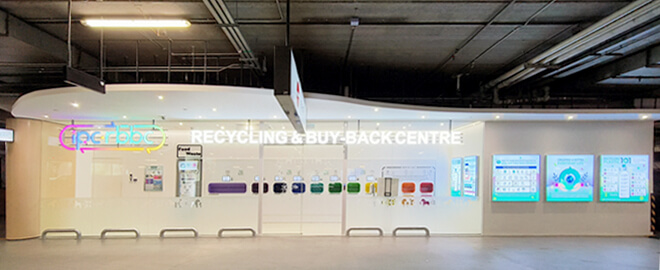 Located at the same zone in P1 Carpark, the new IPC RBBC features a vibrant Scandinavian aesthetic that showcases its many different waste categories based on colours of the rainbow with a sleek and clean digital new look. It is also strategically located for easy accessibility for shoppers to drop-off their recyclables when they visit IPC Shopping Centre.
RBBC started back in 2009 with only 6 recyclables categories, but the upgraded digitalised version today now accepts up to 14 recyclables categories: cardboard, paper, plastic, metal, aluminium, drink carton, polystyrene, textile, light bulb or tube, medicine, glass, battery, e-waste and food waste.
Moreover, the new RBBC can also accept non-recyclable waste categories such as light tube and bulbs, medicine, glass, battery, electronic waste and food waste in an effort to reduce waste disposal from piling into landfills. Hazardous waste such as glass, battery and electronics are handled professionally and disposed safely to prevent environmental pollution caused by toxins and to ensure the recyclable parts are properly repurposed for future reuse.
The RBBC is now transformed into a self-service digitalized recycling drop off wall with brand new interior design. We have even integrated our loyalty program (Tack Club) into the system to allow patrons to collect Tack Points from their recycling efforts through their IPC app and exchange it for rewards such as free parking, shopping e-vouchers and much more.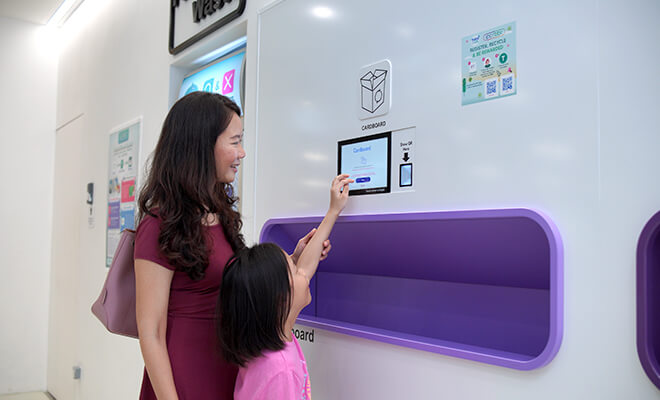 It also features a user-friendly interactive touch screen that even children can reach and use to deposit their recyclable waste. This also serves as a great platform and hub to educate, nurture, and instil green habits in children from a young age while making recycling fun with their families.
Do visit the RBBC
IPC 2022 Green Campaign – Smarter, Greener, Together
In conjunction with the launch of the newly upgraded RBBC, IPC Shopping Centre is running a recycling green campaign where they are offering double the rewards for paper, plastic, and aluminium waste in their annual Green Campaign – "Smarter, Greener, Together". From 1 July to 4 September 2022, in collaboration with Nestlé and Tumboh, shoppers who drop-off the following weight of recyclables will be entitled to receive the following rewards from the i-Counter located on the Ground Floor:
| | |
| --- | --- |
| Min 6kg of recyclables | Tack Points, two RM5 e-vouchers and hand sanitiser from Tumboh* |
| Min 10kg of recyclables | Tack Points, two RM5 e-vouchers, hand sanitiser from Tumboh and IPC Macaron Bowl Set* |
| Drink carton recyclables | Top 50 recyclers with the most used drink cartons will receive 1 Milo UHT 125ml cluster and a limited-edition Milo Touch 'n Go card |
*Rewards only applicable for accumulation of each category: plastic, aluminium and paper